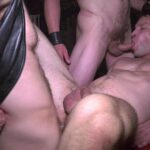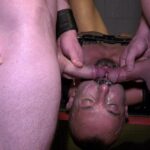 LEATHER FANTASIES
Triple-Pack DVD Download 70min.
SCENE 1
The service is called "total submission" and beginns in a dungeon in the outskirts of Frankfurt when Master Erik brings his slave to serve his fellow Master Drago. The extremely submissive and insatiable slave Erik worships Drago's rock hard cock with his eager mouth and tongue before taking his place, on all fours, on the dungeon table. The two masters first straddle Slave Erik so that he can orally pleasure them. After taking turns plunging deep wihtin his mouth cunt, they relentlessly fuck Slaves' Erik cock hungry hole they jack off until they shower him with loads of cum. A must-see video for all lovers of submissive and kinky sex. Leather fantasies in the dungeon.
Actors: Drago Lembeck, Erik Nohal, Erik Leen
SCENE 2
Leather sessions in a sleek dungeon of a sex club in downtown Frankfurt horny Tomas Salek meets muscle hunk Boda Gold. Boda ist tided up and cock hungry Tomas drops to his knees to service the blond mighty stud in front of him. Tomas gets Boda´s vein-popping cock as hard and sloppy as it can get before he bends over and offers up a place for Boda´s cock to spend some time. Boda is more than happy to see what Tomas feels like from the inside and slams his cock into the horny stud´s manhole. Tomas pounds away, making Boda grunt every time the rock hard, throbbing cock enters his insatiable, cock hungry hole. The full throttle sex culminates as Boda and Tomas shoot their loads all over across the dungeon floor. One of he most rough, rugged, raunchy and sweaty, leather and bound man-to-man action.
Actors: Tomas Salek, Boda Gold
SCENE 3
Dominique Kenique is hanging out in the sling waiting for someone to come along and make some action happen. He bends over and offers up his hairy, sweaty "FUCKHOLE" to any horny stranger who comes along and wants to use it. It doesn't take long and James Huck is standing at the entrance door playing with his hard dick while watching horny pig Dominique. It's not long before James gives into his temptations and approaches Dominique. He starts fingering his tight fuckhole first and then he grabs a dildo and works with it Dominique's cock hungry butt hole. James jacks his dick with excitement, and with Dominique's ass good and ready, James mounts him from behind for a ball-slapping pounding. Sweat covers their muscled bodies and they slam together again and again. Alex Axel joins the fun and makes himself the main attraction as he takes his place between the two horny hunks to round out the threesome.
Alex wants a turn on Dominique's tight hole and the sweaty studs switch positions fucking Dominique's face and ass. Dominique gets his butt hole pounded deep as he sucks on James' throbbing dick. His big fuzzy sack dangles down between his legs as he gets his taint and balls worked along with his hole. Alex is so turned on that he sprays a huge load of cum on Dominique's face. The sight of it all makes James blast a geyser of his own as the cum shoots out of his throbbing, thick, uncut cock on Dominique's cum covered face. Dominique is thirsty and doesn't let it go to waste. He licks every last drop of both men from their sticky and hard rods. Nothing gets in the way of these studs living out their fantasies and getting all the cock and ass they can get. 
Actors: Dominique Kenique, James Huck, Alex Axel
Leather Fantasies was directed was by Nick Mazzaro
Only logged in customers who have purchased this product may leave a review.