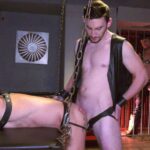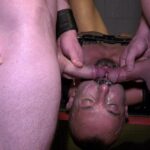 GERMAN RAW SEX
German Raw Sex – Triple-Pack DVD Download 76min.
SCENE 1
Tobias Malek is cruising the halls of the sex men's club when he happens to walk by Dominique Kenique. There's no question that Tobias is ready for some fun. Dominique lures Tobias into the booth next to his and whips out his 8' throbbing cock. Tobias drops to his knees and starts to suck Dominique's meaty cock as it emerges from the glory hole. Tobias proves to be an expert cocksucker, swallowing the hard tool to the base and gagging as it grows to rock-hard perfection in his throat. Tobias and Dominique know they have to take it to the next level so they sneak into the same booth to fuck. Handsome blond hunk Tobias shares some intense kissing with smooth, lean tatted stud Dominique. Grabbing the back of Tobias's head, Dominique face-fucks him with and thrusting rhythm, as spit drips down onto his thick cock for lube.
Dominique is so horny that he needs a taste of Tobias' delicious bubble butt. He spreads the cheeks apart to get in deep with his tongue. With each lick, both studs grow hornier and soon Dominique bends the hunk over and sinks his fat cock inside as Tobias moans out with delight. Dominique goes slow at first to let Tobias get accustomed to his dick, then all bets are off. Dominique's rhythm speeds up and soon he's pounding Tobias with all 8′ of rock hard cock. Tobias wants to watch Dominique fuck him and rolls onto his back to continue taking the pile drive from the big dick. Dominique pulls out and drops his load all over Tobias' ass. Tobias gets on his knees and sucks on Dominique's throbbing cock, taking it deep as he jacks his own rod. He stands up and jerks a load into Dominique's hungry mouth.
Actors: Dominique Kenique, Tobias Malek
SCENE 2
Jordan Berlin is in his condo finding himself horned-up and waiting for his boyfriend. Jordan takes out a dildo, pops on a porn magazine to help satisfy his needs. After a few attempts to get himself off, Jordan decides he wants more, he wants the real thing. A big hot thick cock to fill his hole. When his sexy boyfriend Eddie Star arrives, Jordan tells him straight away to fill up his holes. After the two jock sluts French kiss each other, Eddie smacks Jordan's ass cheeks with a thick, black dildo. Jordan wants a taste of Eddie's monster cock and turns around to swallow it whole. After getting his throat stretched, Jordan hops on top to take Eddie's dick to new depths. He bounces up and down, taking every inch of the girthy cock probing his mouth. The cock-hungry Jordan savors every inch of the hariy blond stud with an eager blowjob that gets Eddie ready to fuck.
Handsome Eddie is so turned on by the whole experience that he can barely contain himself. He gets Jordan's eager hole nice and opened up and ready for his giant dick that he is about to slip inside. He lubs up Jordan's butt and then slips his throbbing dick deep inside the moaning jock slut. Jordan loves the feeling of being stretched and rides Eddie, taking the hard dick as deep inside of him as it will possibly go. Jordan moans out with every push from behind, demanding that Eddie go deeper and harder.  Eddie can't hold off any longer and pulls his bare cock out of Jordan's ass to drench his thirsty mouth with a fresh white load.
Actors: Eddie Star, Jordan Berlin
SCENE 3
Dominique Kenique is hanging out in the sling waiting for someone to come along and make some action happen. He bends over and offers up his hairy, sweaty "FUCKHOLE" to any horny stranger who comes along and wants to use it. It doesn't take long and James Huck is standing at the entrance door playing with his hard dick while watching horny pig Dominique. It's not long before James gives into his temptations and approaches Dominique. He starts fingering his tight fuckhole first and then he grabs a dildo and works with it Dominique's cock hungry butt hole. James jacks his dick with excitement, and with Dominique's ass good and ready, James mounts him from behind for a ball-slapping pounding. Sweat covers their muscled bodies and they slam together again and again. Alex Axel joins the fun and makes himself the main attraction as he takes his place between the two horny hunks to round out the threesome.
Alex wants a turn on Dominique's tight hole and the sweaty studs switch positions fucking Dominique's face and ass. Dominique gets his butt hole pounded deep as he sucks on James' throbbing dick. His big fuzzy sack dangles down between his legs as he gets his taint and balls worked along with his hole. Alex is so turned on that he sprays a huge load of cum on Dominique's face. The sight of it all makes James blast a geyser of his own as the cum shoots out of his throbbing, thick, uncut cock on Dominique's cum covered face. Dominique is thirsty and doesn't let it go to waste. He licks every last drop of both men from their sticky and hard rods. Nothing gets in the way of these studs living out their fantasies and getting all the cock and ass they can get. Leather Sessions Vol.2 directed was by Nick Mazzaro.
Actors: Alex Axel, Dominique Kenique, James Huck
German Raw Sex was directed by Nick Mazzaro
Only logged in customers who have purchased this product may leave a review.